Vietnam Online Business Forum – VOBF is annual event organized first time in 2017 and has attracted great attention from the community. Following that success, VOBF 2018 was held in Hanoi on March 14th and Ho Chi Minh City on March 16th, 2018.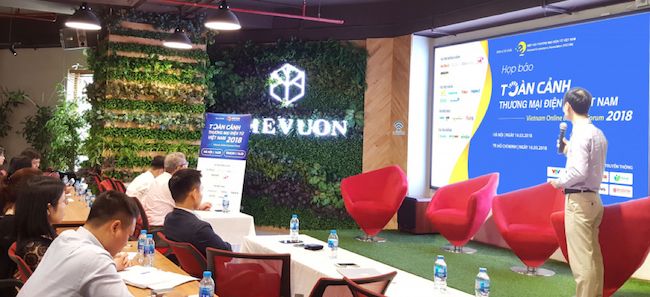 Vietnam Online Business Forum 2018 Press Conference
According to VECOM's evaluation, Vietnam e-commerce growth rate in 2017 reached over 25% and it can remain over the period of 2018-2020. Some specific areas have spectacular growth rates. For online retail, revenue growth rate in 2017 increased by 35% according to information from thousands of e-commerce websites. The indirect survey from some delivery enterprises showed the growth rate of delivery services revenue is from 62% to 200%. In 2017, the growth of domestic online card transactions is about 50% compared to 2016 while transaction value increases by 75% for payment sector, according to the National Payment Corporation of Vietnam (NAPAS). In the field of online marketing, affiliate marketing enterprises had growth rate in 2017 from 100% to 200%.
VOBF is attracted by many agencies, organizations, enterprises and individuals operating in e-commerce with aims of creating opportunities to exchange new trends on online business, outstanding technologies and innovative business ideas; introduce new research market related to e-commerce in the world as well as in Vietnam, help enterprises adjust the most suitable business strategy.
This year's forum will include four discussions on four outstanding topics. The first session with the topic "The age of Connection and Information Sharing", the speakers will discuss the e-commerce development trend in 2018, the ability to maintain high growth rates such as 2017, and new motivations to achieve this growth rate. Enterprises need to increase connectivity and information sharing to improve business efficiency and satisfy the diverse and increasing needs of customers.
"Outstanding issues in online business" will be the topic of the second session. The development of technology has spurred the formation and development of new online business types and has also generated many challenges related to healthy competition or consumer protection. The second session will discuss problems concerned by online business agencies, organizations and enterprises, including tax management for e-commerce, economics sharing, blockchain technology and digital currency, information security and personal information protection, etc.
The third session will discuss influences of technology on e-commerce. Cloud computing, big data, and mobile have a great impact on a great impact on e-commerce business in Vietnam. The speakers and participants will together exchange how the outstanding technologies such as artificial intelligence (AI), Internet of Things (IoT), virtual reality (VR) or blockchain affect e-commerce in our country in 2018 and the following years to identify the profound impact of these technologies on the business performance of each enterprise.
The fourth session is a good chance for young businessmen to discuss "Successful start-up with e-commerce". Starting a business is never simple, especially starting a business in the online business. What are the similarities and differences of online entrepreneurship with other fields? In addition to creative ideas, do entrepreneurs need any business environment and support from the state and professional organizations? The start-up session of VOBF 2018 will help start the online business community sharing the essentials for success!
E-business Index 2018 will be disclosed at the Forum. The E-business Index – EBI built by VECOM from 2012 is a useful tool to determine e-commerce development situation over the country as well as locality. Based on survey of thousands of enterprises, EBI 2018 showed huge differences between Hanoi and Ho Chi Minh City with other localities and evokes many activities to promote e-commerce and digital economy development at the same time. The E-business Index is a useful source of information for state management agencies on e-commerce at the central and local levels as well as numerous organizations and enterprises.
This year's forum attracts the enthusiastic participation of organizations and individuals that have a great influence on online business, including representatives from the General Department of Taxation, Amazon, Nielsen, NAPAS, VnPost, Vinaphone, VinaCapital, Zalo, Grab, Mat Troi, PA Vietnam, Vietinbank, Mobifone, US-ASEAN Business Council, Fado ... So far, the Forum has attracted a lot of organizations, enterprises, and individuals interested in online business to register for participation.